Posted by: University Eye Specialists in Uncategorized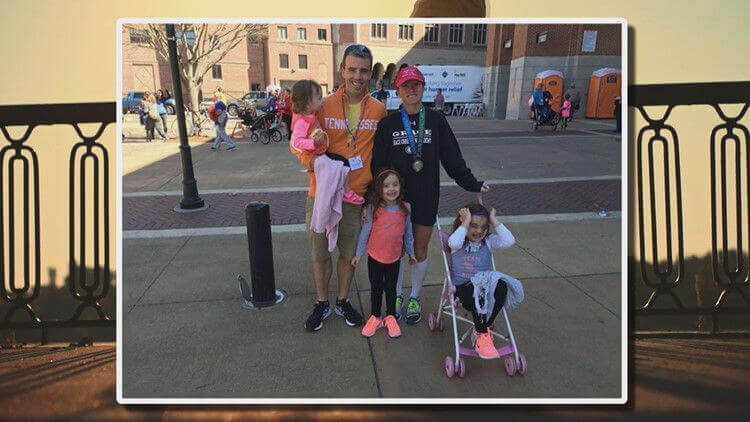 Gina Rouse runs her kids from place to place, runs her household and runs 100-plus miles every week. This marathon mom puts in the work, and it has paid off in a big way. Running is in Gina's blood. She started in middle school, and ran track in college.
"It was kid of a natural love from the start. I really found a connection to running and teammates and chasing goals," she said.
That love carried over into her personal life.
"When I met my husband, I found out he was a runner, and so our dates would be meeting for a run and grabbing something to eat," she said.
While she's always been a runner, marathons are still fairly new for Gina.
Gina Rouse:
"It wasn't until after having kids that I tried the marathon," the mother of three said. "After that I was hooked so with each subsequent kid we've had I've just gotten more and more competitive and that drive has just continued."
It turns out, marathons are her thing!
Not only has she won the last two Covenant Health Knoxville Marathons in the female category, she also recently qualified for the Olympic trials for the 2020 Tokyo Summer Games.
"It's super tight. The best of the best get to go on to the Olympics, but it will be such an honor to compete with the top ladies in our country," she said.
This kind of success takes dedication, especially while juggling family obligations.
"I try to fit it in in the nooks and crannies to where its not as noticeable to my children that I'm missing so I can really try to be there, pick them up at school," she said. "Now there's plenty of times that I'm on the treadmill and they're in there jumping on the bed, another string cheese, another Cheez-it, 'Mommy just has to get through 5 more miles!'"
Having her family's support gives Gina a big boost on race day.
I will tell you any time you're at the last couple miles of a marathon and you think I cannot put one foot in front of the other to keep going, I think of my girls and I think just get to that finish line because they're waiting for you," she said. "It's been so neat to see them be excited and they catch the vision of setting goals and chasing dreams."
Gina will be toeing the line in the 2018 Covenant Health Knoxville Marathon in just a couple weeks. The race is on Sunday, March 25.
© 2018 WBIR
http://www.wbir.com/video/news/local/marathon-mom-qualifies-for-olympic-trials/51-8035458
---