Posted by: University Eye Specialists in Uncategorized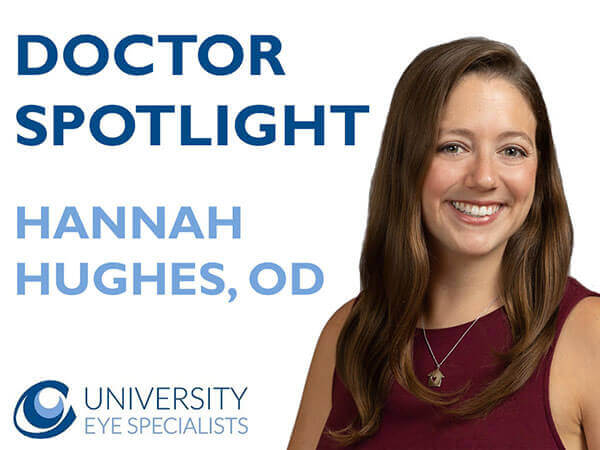 Dr. Hannah Hughes joined University Eye Specialists in 2020 as a comprehensive medical optometrist. After receiving her bachelor's degree in biology from Northern Kentucky University she decided to follow her passion and entered the prestigious Indiana University School of Optometry. While in optometry school she was able to immerse herself in studying the complexities of the human eye and visual system. Dr. Hughes stood out among her peers as a rising star and was incredibly active – volunteering with the Special Olympics and the Optometric Services to Humanity organization, amongst others.
Dr. Hughes further developed her enthusiasm for eyecare as she was able to complete her externship with the Naval Health Clinic in Quantico, Virginia. In this capacity she had the proud honor of caring for a high volume of active-duty military personnel. Dr. Hughes was able to foster this passion as she transitioned her externship to the Tallahassee Veteran's Administration where she, again, was able to treat patients who served our country and had diverse visual needs.
Outside of routine eye care, Dr. Hannah Hughes specializes in pediatric optometry, contact lens fitting, and the diagnosis and management of ocular disease. Her practice also focuses on dry eye intervention and treatment, recognizing that in today's digital age there is an increasing need for this specialized care. Dr. Hughes has also contributed to a number of projects, including providing consultative research within the field of anterior eye tomography.
While away from the office, Dr. Hughes is a familiar face at the Ice Chalet on Lebanon Street in Knoxville, Tennessee, where she can pursue her other passions including coaching competitive figure skaters – a sport that has been a large part of her life since she was a young girl. As an athlete, Dr. Hughes enjoys going for a run or hiking amongst the breathtaking scenery of East Tennessee, where she is often joined by her spoiled rescue puppy, Burd.
---