Posted by: University Eye Specialists in Uncategorized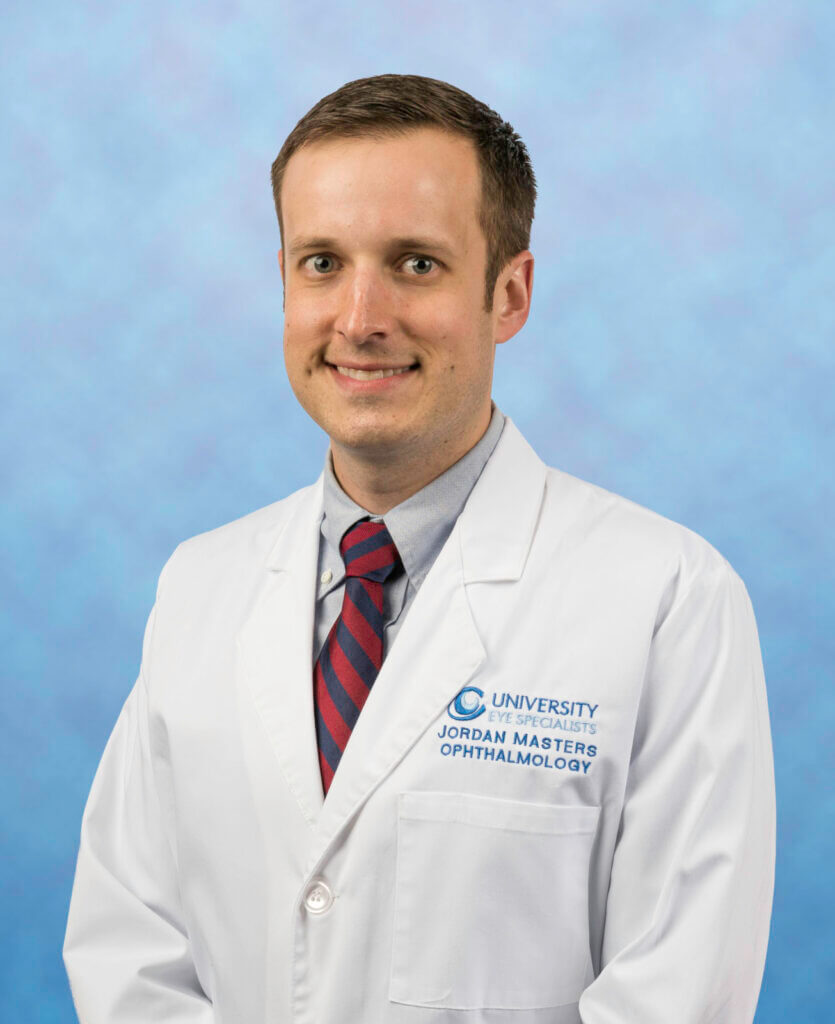 Dr. Jordan Masters is a cornea specialist who truly enjoys using his expertise to positively impact the lives of those he cares for. Dr. Masters knows firsthand the impact that it makes on an individual when he restores their sight and improves their quality of life. He, therefore, unabashedly describes ophthalmology as an "awesome privilege" and could not imagine practicing in any other capacity.
Dr. Masters is a fellowship trained cornea specialist skilled to operate and treat conditions related to the front part of the eye. As the primary focusing mechanisms of the eye, the cornea as well as the crystalline lens, have the incredibly important task of properly placing light onto the retina for image formation, allowing one to see properly. Outside of comprehensive eye examinations, Dr. Masters also offers state-of-the-art micro incision cataract surgery, advanced corneal transplantation techniques, pterygium surgery, ocular surface tumor surgery, secondary intraocular lens implants, and refractive procedures including LASIK and PRK.
It was his time spent with his mentor Dr. David Harris, of University Eye Specialists, during his clinical training at the University of Tennessee Medical School, that ignited Dr. Masters passion for ophthalmology. During his internship at the University of Tennessee Medical Center, he continued his research activity and studies under Dr. Harris at UES. Dr. Masters was impressed seeing firsthand how patient centered the practice was. He also saw the dramatic, life-altering effect of corneal transplantation and the restorative power of cataract procedures. After completing residency at the University of Tennessee Hamilton Eye Institute followed by advanced surgical and cornea training at the prestigious Kellogg Eye Center at the University of Michigan, he joined the University Eye Specialists team in August of 2017 garnering a particularly warm "home-coming".
Dr. Masters was born in Florida, but spent most of his formative years growing up in middle Tennessee around Nashville. His wife, Tyler, who is originally from the Knoxville area is a registered nurse that now stays at home caring for their three young boys; Owen, Grant and Lewis. They are exceedingly overjoyed to call Farragut, Tennessee their home – living close to both cherished family and the majestic intricacies of the Smoky Mountains.
Dr. Masters has many interests outside of the office. He has always enjoyed the sport of soccer; both as a participant and as a spectator. As an avid runner Dr. Masters also loves to use the beautiful Tennessee hills to dictate his exercise regime – but his greatest joy comes from the subtleties of spending the afternoon with his family at a local park and watching his boys have a great time. He has already proudly started indoctrinating his children with a love for Tennessee football.
Interestingly, Dr. Jordan Masters is the first one in his family to attend college. Not only did he graduate, but he continued on to medical school and graduated first in his class – an intellectually rare, talent-driven, accomplishment. His excitement for patient care and passion for minimally-invasive, technology-driven procedures is an enormous asset to the group. His patients are quick to notice his exacting attention to detail as well as his contagious positivity. University Eye Specialists is fortunate to have Dr. Masters within the practice.
---